By Betty Lochner, Executive Director, Washington College Savings Plans
March 28, 2018
Saving for college is a lot harder when your budget is messy. When you get out the duster to remove cobwebs and dust off your blinds for spring cleaning (or sweep the refrigerator like my grandson), don't forget to tidy up your dusty budget.
Taking these three budget cleaning steps in addition to last week's tips for Spring Cleaning Your Finances, will improve your budget without impacting your lifestyle.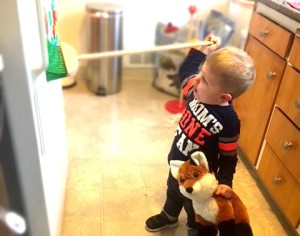 1. Go over all your subscriptions.
I've fallen prey to this one recently. I had subscribed to Netflix, Drop Box, YouTube Red, Hulu with Live TV, YouTube Music, etc. Generally, I was signing up for free trials to see if I needed the product. I really just needed YouTube Music, Netflix and Hulu, but I forgot to cancel the others. It's easy to do when you don't use them. The result was over $50 in monthly charges for services I didn't use. Don't just cancel the subscriptions you don't want. If you notice the charge within a week or two, you can often email or call to get a refund. $50 saved monthly for 10 years, totals $6,000. That's without adding interest.
    2. Negotiate utilities.
Your utilities are often negotiable. Cellphone companies often don't tell you about their cheapest plans, especially if they've changed since you've signed on. They may also offer a discount for a variety of reasons such as who you are employed by. Call them. Many states offer multiple options for your electric provider for comparing rates. Cable companies will often offer free premium channels for a few months. You can compare home or car insurance prices with convenient online tools or by calling independent agents. You can often save well over a $100 per month with a few phone calls. Add $100 per month to the $50 per month you're already saving by cutting off unwanted subscriptions, and you can save $18,000 for yourself, your children, or both.
    3. Negotiate loans.
Finally, negotiate your loan interest rates, from your credit cards to car and home. For your credit cards, call each of your card companies to see if you can reduce your interest rate. If one does and the others won't, pay off the highest one first and possibly take advantage of a balance transfer offer. With your car loan, especially if your credit has improved since the purchase, check with your local credit union to see what the rates are now. If they're lower than the rate you received at purchase, refinance. You can pay off the loan early, and car loans generally don't charge fees for refinancing. Finally, if you plan on staying in your home for at least another 5 years and you can save a percentage point or more, consider refinancing.
With a combination of these tips, you can add $40,000 or more to your savings over 10 years, removing some budget dust without changing your lifestyle in the slightest.
About the Author
Betty Lochner is the Director of Washington College Savings Plans. In addition to the Guaranteed Education Tuition Program (get.wa.gov), Washington will soon be launching an additional college savings option.  Learn more about the DreamAhead College Investment Plan at dreamahead.wa.gov.