By Betty Lochner
Director of the WA Guaranteed Education Tuition (GET) and Past Chair of the College Savings Plans Network
January 18, 2016
"Life's most persistent and urgent question is:
'What are you doing for others?'"
~ Dr. Martin Luther King, Jr.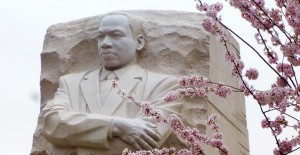 The Martin Luther King, Jr. Memorial in Washington D.C. is by far my favorite historic landmark.  The statue itself is larger than life, but it stands in the shadow of the unflinching character it evokes as it calls you to reflect on the extraordinary and influential life of Dr. King.
This week we celebrate the life and legacy of Dr. Martin Luther King, Jr. and the influence his life has had on our country. He was passionate about all he did and believed it was our responsibility to work peacefully to better ourselves and the world around us, through advocacy and service.
That is why many choose to honor his legacy by participating in the national MLK Day of Service. It's a day where people across the nation give back to their communities by volunteering "a day on, not a day off."
In reviewing his life and work and his profound commitment to education, I found a few interesting facts about Dr. King:
1. His given name was not Martin.
Dr. King was born and named Michael King Jr. on January 15, 1929. But in 1934, his father traveled to Germany and became inspired by the Protestant Reformation leader Martin Luther. As a result, King Sr. changed his own name as well as that of his five-year-old son.
2. He entered college at the age of 15.
Dr. King skipped grades nine and 12 before enrolling at Morehouse College in 1944.
3. His undergraduate degree was not in theology.
Dr. King did not intend to follow the family vocation, but was eventually convinced and was ordained just before graduating college with a degree in sociology.
4. King was jailed 29 times.
Throughout his life, Dr. King was arrested for acts of civil disobedience. Many of the arrests were for trumped-up charges, including a charge for driving 30 miles per hour in a 25-mile-per-hour zone.
5. King's mother was also slain by a bullet.
In June, 1974, as Alberta Williams King played the organ at a Sunday service, Marcus Wayne Chenault Jr. rose from the front pew, drew two pistols and killed her. She died steps from where her son had preached nonviolence. Chenault received a death penalty sentence that was later changed to life imprisonment, due in part to the King family's opposition to capital punishment.
6. George Washington is the only other American to have his birthday observed as a national holiday.
In 1983, President Ronald Reagan signed a bill that created a federal holiday to honor King. The
holiday, first commemorated in 1986, is celebrated on the third Monday in January, close to the civil rights leader's January 15 birthday.
As parents and grandparents, we often serve and lead by giving back to our community, and therefore, our country. What better way to give back than to raise educated children. Give them the tools to go forward and make the world a better place. They are our future. Saving for college can help make the dreams of your children and grandchildren a reality.
Take it from King: be free to dream.
About the Author:
Betty Lochner is the Director of Washington's Guaranteed Education Tuition (GET) program. Under her leadership, the GET program has grown from 7,900 to over 130,000 accounts, with a fund valued at over $2.66 billion. Washington is unique in that their only 529 plan offered is a prepaid tuition plan. Lochner currently serves as Past Chair of the College Savings Plans Network (CSPN).