By Sandra Houston
Director of the College Illinois! Prepaid Tuition Program
December 21, 2015
I have fond memories of my parents recounting Christmases past. Although they grew up during a time when money was scarce, they have wonderful memories of the holidays. I'd sit in awe as my parents talked about how excited they were to get a few pieces of fruit, nuts and a small bag of hard candy on Christmas day.  I could almost taste the candies filled with jelly and smell the sweetness of the fruit as they told their stories with eyes sparkling from memories long past. "What about the toys?"  I had once innocently asked.  "Well," my father said smiling, "there really wasn't a lot of money for toys, but sometimes we'd get mittens or socks or a much needed piece of clothing and we were just as happy as you are with your mounds of toys."  My father went on to explain, "back then, Christmas wasn't all about the toys and gifts – it was about the joy of the holiday and gathering with friends and family. It was about sharing with those who had less than we did."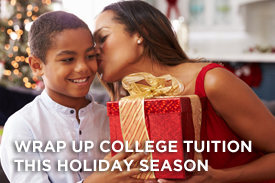 As a child, I couldn't quite understand how anyone could be happy without mounds of toys on Christmas day. But as time passed, I began to understand the true meaning of the holidays and the importance of spending time with those I love and cherish. I began to understand that the holidays are about making memories and creating legacies that can be passed on to generations to come.
Speaking of legacies, why not create a learning legacy for your child or grandchild this holiday season by gifting a 529 savings or prepaid tuition plan? After all of the toys are forgotten, broken or outgrown, a 529 plan is the gift that will provide benefits for years to come. To learn more about 529 savings and prepaid tuition plans visit: www.collegesavings.org and create a legacy that can last a lifetime.
However you celebrate this season, may the warmth of the holidays fill your heart with joy as you spend time with those you love and hold dear. Habari Gani and Merry Christmas to you all!
About the author:
Sandra Houston is director of the College Illinois! Prepaid Tuition Program.