Give A Gift of Education Instead
By Patricia Roberts, Author & Chief Operating Officer, Gift of College Inc.
November 16, 2021
With supply chain concerns, retailer staffing shortages, increased prices, and shipping delays on the horizon, shopping for the upcoming holiday season may be more challenging and less joyful than in prior years. Rather than being discouraged about what may not be available, this season presents us with a unique opportunity to re-imagine gift-giving and consider gifts that are both easier to give and likely to have a more lasting impact.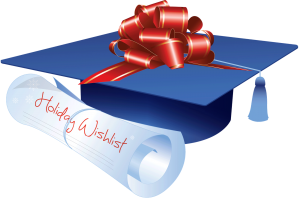 Consider a gift of education.
For those with children of all ages in their lives who are likely to pursue some form of higher education after high school, a gift that could help them to follow their academic and career dreams can be priceless.
A gift toward education after high school can:
Help children follow their passions and develop their innate gifts

The world needs the unique gifts of the future students you love. Education after high school (whether a two- or four-year college, vocational, trade, or professional school) is one of the most direct paths to rewarding careers that enable talents and passions to be shared and to positively impact our world.
Put children and their families on a path of financial wellbeing

With many students and families currently struggling to repay $1.7 trillion in student loan debt, a gift toward the cost of education can help eliminate or reduce the need to borrow for higher education pursuits and can reduce the tremendous stress often associated with years of student loan repayment.

Help children begin to develop a belief in their ability to pursue and obtain a degree

Research suggests that low-to-moderate income children with educational savings of even $499 or less prior to reaching college age are approximately three times more likely to enroll in college and four times more likely to graduatethan a child with no savings account. A gift toward a college savings account can change the outlook and academic trajectory of those you love.
So, how do you request or give a gift of education?

If you're a parent:

Be sure to put "college" on holiday wish lists this year.
Open a 529 college savings account for your child(ren) if you haven't already. It typically takes just 15 minutes and $25 or less and in over 30 states, you may be eligible for a state tax credit or deduction for contributions made before year end.
Invite others to contribute to the account you've established. Most 529 plans make it easy for account owners to send an invitation to others so that they can conveniently make a contribution online or by mail. Keep in mind that the many individuals who love your child(ren) may be struggling with gift ideas this season. Suggesting a gift toward college can alleviate their shopping concerns and can be a win for all involved.
If you're a gift giver:

Consider opening your own account for a future student. You don't need to be a child's parent (and don't even need to be related to the child) to open a 529 college savings account. Many grandparents, aunts, uncles and others open accounts for children they love and make it a tradition to contribute for birthdays, milestones and other special occasions through the years. And in many states, as the account owner, you may be eligible for an annual state tax credit or deduction for contributions made.
Ask the child(ren)'s parent(s) if a gift toward higher education would be welcomed as a holiday gift and if so, whether they can send you an invitation to contribute if they already have an account opened.
If you don't want to spoil the surprise by asking for an invitation to contribute to a child's account, purchase a gift card that can be contributed to most any 529 college savings plan account. If the family does not yet have an account established, receipt of a gift card will prompt them to open an account, and if they already have an account opened, you will have given them an additional contribution toward a very important goal. Either way, recipients can simply redeem these gift cards into a newly established or existing 529 college savings account.
While more traditional gifts can bring tremendous joy to a child when first opened, far too often such gifts capture a child's attention for a matter of minutes before that attention goes elsewhere. Many toys wind up appreciated for a short while until they are broken, lost or relocated to a closet, attic, garage, or landfill. A gift toward education, however, is an investment in a child's future which can grow (versus depreciate) in value. There's no telling the impact that a single contribution this holiday season may have on a child, their family, and our world.
About the author:
Patricia Roberts is the Chief Operating Officer of Gift of College Inc.