Smart Gift Giving this Holiday Season
By Patricia Roberts
Managing Director & Senior 529 Product Manager, AllianceBernstein L.P.
November 20, 2012
With Thanksgiving upon us and Black Friday and Cyber Monday soon to follow, gift giving is on the minds of many.

 

This is an ideal time to talk turkey about gifts for the children in your life.
Many college savings programs have tools in place that make it easy for account owners to invite friends and family to contribute to already-established accounts. Account owners should check with their 529 plan to determine what tools exist to invite others to contribute, such as deposit coupons that can be printed and shared.   A few plans even have paperless tools enabling gifts to be made electronically!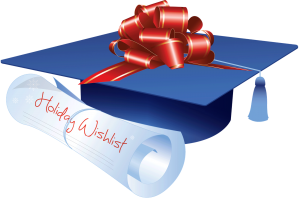 1. Friends and Family will THANK YOU for providing them with a very smart gift suggestion that's EASY to give.

 

 
Well-intentioned loved ones often spend considerable time, money and effort searching for "just the right" gift.

 

At a time when concerns about the rising cost of higher education and the increased burden of student loan debt on graduates and their families are widely known, giving the gift of education can be a meaningful way to help.
2. Your child will benefit in more ways than one.

 
The effects of saving for college are more than economic.

 

In addition to helping with college costs down the road, just knowing that others are investing in them and believe in their potential, provides children with added confidence and motivation.

 
3. You'll feel relieved because you're not going it alone.
 

Others who love your children will likely appreciate lending a hand with such a worthwhile goal.

 

Making an investment in a college account is making an investment in a child's future.
4. It's a valuable discussion topic for the entire family.
  

The receipt of gifts earmarked for education provides a great opportunity to begin an important discussion, even with young children, about future goals and preparing to pay for them.

 

Depending on the child's age, it also provides an opportunity to begin discussing talents, passions and potential academic and career options. 
5. Your home will be less cluttered.

 
Even the most popular items can fall out of favor or be outgrown before long.

 

As children grow and homes become more cluttered, many parents begin to wish that even a fraction of what was spent on quickly discarded or outgrown holiday gifts had instead, been earmarked for college.

 

Recommending the gift of education may mean families have less mess in their homes and more money for college.
Bottom Line: Recommend that friends and family go easy on more traditional gifts this holiday season and instead, consider the gift of education by contributing to your 529 plan account.  It may be a welcomed alternative for those stressed out with shopping, and could become a meaningful holiday tradition that creates a lasting connection for those both giving the gift and receiving.  


---
About the Author:


Patricia Roberts is a Managing Director at AllianceBernstein where she is the Senior 529 Product Manager for Rhode Island's CollegeBoundfund, the nation's second largest advisor-sold college savings program with $7+ billion in assets.  She has been involved in nearly every aspect of the 529 industry for the past 15 years as an attorney, product manager, state relationship manager and as a passionate advocate and public speaker.  She is an active participant in the College Savings Plans Network's Legal and Regulatory Affairs, Federal Initiatives and National Communications Committees.