Employers know that recruiting the right skills and retaining talented employees is vital to an organization's success. Reflecting on the last two years, I think we can all agree that this business challenge has risen to a new level across all industries. So much so, that finding and keeping employees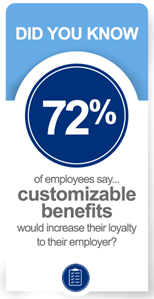 often now requires thinking outside the traditional pay and benefits box. Employees are looking at employment differently. They are seeking not only positions that fill their "work bucket" but also those that help them mitigate life-stressors including financial wellness topics.
Employee financial stress costs employers
Financial stress research from Plan Source and Met Life reports that employees are distracted by their personal finances and funding education is top of mind for many[1]. This research finds that by adding tailored, non-medical benefit options, such as 529 college savings plans, employers can increase overall employee satisfaction and retention while helping to reduce anxiety around financial wellbeing.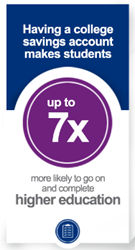 While the educational attainment challenge is complex, there seems to be consensus around two chief factors: cost and culture. Saving for higher education helps address costs. Research shows it also helps mold family culture and has a measurable impact on whether a student pursues higher education[2]. Given this, awareness, and utilization of education savings accounts such as 529s are vital in raising postsecondary completion rates.
Offering competitive benefits while creating loyalty
When an employer offers a 529 Program as a no-cost employee benefit, account ownership and payroll contributions increase exponentially[3].
Partnering with their state's 529 Program allows employers to offer a competitive benefits package that helps attract and retain top talent for organizations, while also helping employees invest in themselves and their loved ones. By providing this type of benefit employers are encouraging and helping to cultivate and grow the skills they seek for future growth.
Education materials and payroll direct deposits are available at no cost. Employers can also utilize 529s as part of their organization's rewards and recognition program by directly contributing to an employee's individual 529 plan. Examples could include 529 gift cards or matched or unmatched contributions for bonuses or to celebrate life events such as a work anniversary or a new baby. And with recent legislation making 529 funds available for tuition at K-12 public, private and religious schools, qualified expenses for registered apprenticeships and repayment of qualified student loan debt, it is easier than ever for employers to get creative in supporting their employees' education goals.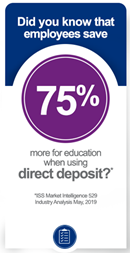 As a bonus, some states offer tax incentives to employers for contributions made to employee 529 accounts.  A win-win for all!
Employer involvement is important for the cultivation of a more-educated workforce. With the rising costs of higher education and the importance of ensuring the future workforce has its needed skills, encouraging families to save for educational expenses is imperative.
Just like 529 college savings have the potential to add up, every investment an organization makes in its business, its employees, and their families makes a difference. 529s are a smart addition to any organization's benefits package; giving employees peace of mind about saving for education, helping employers create organizational loyalty, and fostering a pro-education culture.
Attract and retain great employees with a 529 benefit
Invite 529 staff to speak at the benefits fair, a lunch-and-learn, or another event.
Distribute 529 program information to employees (newsletter, intranet, and social media).
Provide the option for employees to direct deposit contributions into their 529 accounts.
Directly contribute to employee's 529 accounts.
Award organization scholarships through a company owned 529 account.
About the Author
Christine Stoll is the Executive Director of IDeal – Idaho College Savings Program. cstoll@idsaves.idaho.gov
[1] https://plansource.com/resources/webinars/july-12-2016-benefits/, https://benefittrends.metlife.com/us-perspectives/work-redefined-a-new-age-of-benefits/#a_benefits_experience_for_the_employees_life_as_a_whole
[2] https://source.wustl.edu/2011/04/kids-with-savings-accounts-in-their-name-six-times-more-likely-to-attend-college/
[3] ISS Market Intelligence 529 Industry Analysis, May 2019