By Luke Minor, Marketing & Communications Manager
Washington's Guaranteed Education Tuition (GET) program
June 30, 2014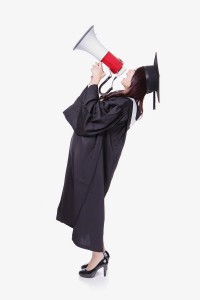 As much as those of us in the 529 world wish otherwise, starting a college savings plan is not always an easy decision for families to make. The benefits of saving for college may seem obvious, and most of us know that we "should be doing it," but connecting these thoughts to action is not always easy. To help provide a little encouragement, we've planned a little pep talk to help you take your college savings game to the next level. To guide our discussion, we'll look at a few inspirational quotes from some of the most outstanding leaders in sports history. So, let's get our game faces on and go win one for your kids!

"It's not the will to win that matters…Everyone has that. It's the will to prepare to win that matters." – Coach Paul "Bear" Bryant
Coach Bryant's legacy is about much more than just a cool nickname and an even cooler houndstooth-patterned hat. He's a true college football legend that led the Alabama Crimson Tide to six national championships and 13 SEC conference titles. But this success didn't fall into his lap – it took preparation. The same goes for saving for college. Of course, we all want to see our kids to do well in school, go to college and ultimately be successful. But to make it happen, it takes thoughtful planning and commitment. We encourage you to sit down as a family, map out a game plan for fitting college savings into your financial planning and then implement that plan.
"Some people want it to happen. Some wish it would happen. Others make it happen." – Michael Jordan
You probably don't need a reminder of who MJ is, but in case the name isn't ringing a bell, he's that guy in all those Hanes commercials – remember? Oh, and he's a six-time NBA champion, five-time MVP and arguably the best basketball player who ever lived – not too shabby. While his talent and aptitude for the game are unfathomable for most of us, Michael Jordan didn't achieve what he did without hard work and the determination to do better. He was one of the fiercest competitors to ever play in the NBA, and we can all learn from his determination. Just as it's important to create and implement a college savings game plan, it's important to refer back to it regularly to see where you're at with meeting your goals so that you can make adjustments as you go.
"It's the little details that are vital. Little things make big things happen." – Coach John Wooden
The "Wizard of Westwood" was a true magician that left one of the largest marks in men's college basketball history. Under John Wooden's leadership, the UCLA Bruins won 10 national championships in just 12 years. Wooden was revered not only for his success on the court, but also for his emphasis on building strong character in his players off the court. His statement above is a simple, but powerful concept. It's often hard to see in the moment how small, seemingly insignificant efforts can add up to a huge payoff in the end,but it's true. Even if you can only set aside small amounts to get your college savings started, it's important to go for it and not be discouraged.
Go, fight, win!
In closing, no matter how much you're able to set aside, it's important to make a college savings plan when your kids are young, do what you can, keep your focus, and make adjustments as you go. The steps you take today will make things that much easier when your child is ready to head off to school. When in doubt, just remind yourself to keep calm and save for college!
About the Author:
Luke Minor is Marketing & Communications Manager for Washington's Guaranteed Education Tuition (GET) program. Since it opened in 1998, GET program has grown from 7,900 to over 157,000 accounts, with a fund valued at over $2.5 billion. Washington is unique in that the state only offers a 529 prepaid tuition plan. Minor manages all social media and web content for the GET Program, and has been the author of several articles and blogs published this past year for the program.