By Patricia Roberts
Managing Director, AllianceBernstein Investments
May 26, 2014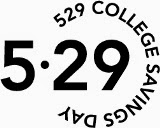 Thursday, May 29, marks 529 College Savings Day, a day to raise awareness about the value of planning ahead for college expenses with 529 plans. This year, 529 plans across the U.S. are celebrating 529 Day in a variety of informative and creative ways.

The College Savings Plans Network (CSPN), the nation's leading objective source about Section 529 College Savings Plans and Prepaid Tuition Plans, has developed an interactive map detailing the wide range of special events. The full infographic is available online.
Across the nation, events are taking place with the goal of raising awareness about the benefits of 529 plans and the importance of planning ahead for higher education expenses. By demonstrating just how easy it is to establish an account, an additional goal is to encourage family and friends of prospective college students to move from awareness to action on 529 Day. The general theme is: Don't panic, plan. Any amount saved in advance can lower amounts that may need to be borrowed for college, trade or technical school down the road.
As an example of one type of event, the University of Alaska College Savings Plan will host free public celebrations with information, refreshments and giveaways in Fairbanks at the UAF campus and in Anchorage at the Kaleidoscape Play Studio in the University Center Mall. Click here for specifics: http://www.alaska.edu/voice/2014/April-2014/announcements/
As another example, clear across the country in the much smaller state of Rhode Island, an informative and fun "College Savings Night" is being sponsored by CollegeBound fund at a Pawtucket Red Sox game.
Additionally, all babies born on 5/29/14 to Rhode Island resident families are eligible to receive a $529 contribution to a CollegeBoundfund account and there is a similar promotion for children of all ages who are welcomed into adoptive families in Rhode Island during this timeframe.
Regardless of where you live, here are a few suggestions to help you make the most of 529 Day:
Get started. If you're not yet a college saver, consider making this the week you begin. Most 529 plans enable investors to start with a modest initial contribution and/or to sign up for periodic contributions from checking, savings or even from paychecks.
Spread the word. If you are already saving, become an ambassador. Inspire others to get started by telling them about your experience.
Give the Gift of Education. Decide to help future students who may not be part of your immediate family by making contributions to their 529 accounts with the next round of special occasions. Everyone involved will likely appreciate your thoughtfulness.
Taking even a small step now may enable you to look back with a sense of pride when future 529 Days roll around. Perhaps you'll realize what a difference a day like this can make in your life and in the lives of those you love.
About the author:
Patricia Roberts
is a Managing Director at AllianceBernstein where her sole focus is on Rhode Island's
CollegeBoundfund, the nation's second largest advisor-sold college savings program with over $7.5 billion in assets under management. She has been involved in nearly every aspect of the college savings arena for more than 15 years as an attorney, product manager, state relationship manager, passionate advocate, public speaker and as a mom, saving for her son Benjamin's education. She is Chair of the College Savings Plans Network Corporate Affiliates, Co-Chair of its Strategic Partnership Committee and plays an active role on other committees including Media Relations, Federal Initiatives and Legal and Regulatory Affairs.