By Anna Scimemi, Director, College Savings Plans, MEFA
December 12, 2016
It's the holiday season, which inevitably means you have some shopping to do. And if there are children on your list, there's an extra challenge of buying something with staying power, knowing that a favorite toy or gadget one day can easily become yesterday's news pretty quickly. Why not spend your money on a present that lasts, and with the ability to unlock doors to a bright future? This season, give the gift that lasts a lifetime: a contribution to a child's 529 college savings account.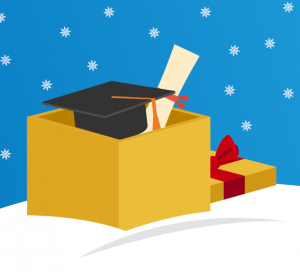 Funds placed in a 529 account have the capacity to not only pay for college later on, but also grow, meaning your contribution can build upon itself as the years pass.  And any amount, even as small as $25, will help pay for college expenses and potentially save the child from having to borrow those funds (and repay them later with interest). As a bonus, money in a 529 account can be used for undergraduate or graduate education, and offers tax benefits to the child's family. Here are some tips to prepare your gift:
First, check with the parents to find out if they've already established a 529 account for the child. If they haven't, work with them to set up an account in the child's name. Reference this list to find the 529 plan in the child's state.
Check with the child's 529 plan to find out the easiest way to contribute. Some states' plans, like Massachusetts', offer the opportunity for the family to set up a gifting page, where you can easily send a contribution online via electronic check.
Let the child and family know you've made a contribution by sending a card or message. Consider sharing a story of your own college experience, or reasons why you're excited for the child to attend college one day. Some 529 plans, like New Hampshire's allow you to print out a certificate letting the recipient know of the gift you've made toward a college education.
If you'd still like to send a physical gift to the child in addition to your contribution, consider something related to college, such as a t-shirt from your alma mater or school supplies to help with schoolwork.  Keeping the focus on education will help the child understand the importance of your gift.
Though a contribution to a college savings account may seem unconventional to most children, your gift will help open doors to one of the best things you can give a child: the opportunity to learn and grow. And that type of present never gets old.
About the author:
Anna Scimemi is the director of college savings for the Massachusetts Educational Financing Authority (MEFA).